Dipropylene Glycol (DPG) – How to use it ?
A/ What is DPG or Dipropylene Glycol:
Dipropylene Glycol LO+ (DPG LO+) is a high-purity product, designed for use in odor-sensitive applications such as fragrances and cosmetics. The material, a distilled product with purity greater than 99.5% as dipropylene glycol, is a liquid that is practically odorless, colorless, water-soluble and hygroscopic that is its advantage in perfumery oils. This grade of DPG was developed to meet the needs of manufacturers who require a consistent quality for their fragrances and personal care products.
DPG LO+ provides excellent co-solvency for water, oils and hydrocarbons, with minimal odor, low skin irritation potential, low toxicity and consistent isomer distribution, making it ideal for use in:
Perfumes and colognes in roll on bottle for example,
Skin care (creams, lotions, sun-care cosmetics),
Deodorants-antiperspirants (roll-on, stick deodorants),
Hair mist or hair care (shampoos, conditioners, styling, coloring products),
Shaving products (creams, foams, gels, after-shave lotions),
Bath and shower products,
DPG – Dipropylene Glycol – How to make a perfume while adding DPG :
Please find below the standards formulas for several type of perfumes as EDP or EDT. Anytime you need to mix all ingredient and test them on sticks to see if the result is approved.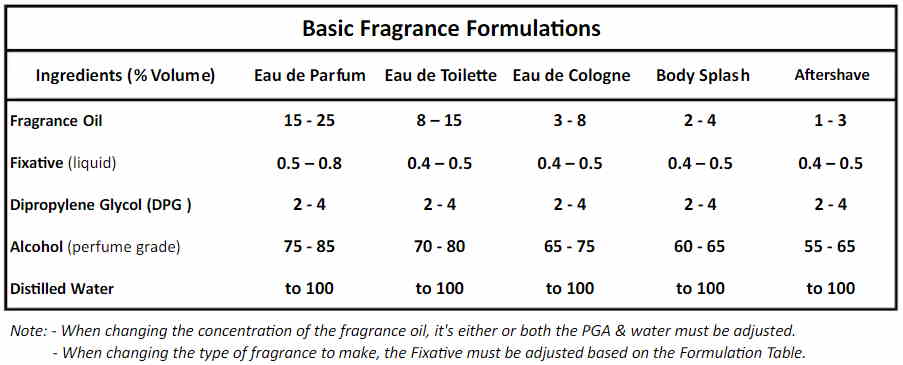 Note also : If you do not have fixative liquid then substitute it by fragrance oil as example 15% become 15% + 0.5% = 15.5 %.
Apply also rules of long lasting process.
Below you get all details of formulation to make a perfume 100 ml, anytime you wish to adjust to the size of your perfume, apply these rules below :
50 ml divide all by 2
30 ml multiply by 3 and divide by 10
15 ml multiply by 3 and divide by 20

B/ What are advantages to use Dipropylene Glycol (DPG) in perfumery:
Your interrest are  :
1/ to diluate the pure fragrance oils that you can buy to a manufacturer to make more profit, of course the power of the scent will be less but you can increase your profit, and DPG is odorless so excepted a chromatography control in laboratory, nobody could detect this kind.
2/ Carrier a fragrance oil without alcohol in a roll on bottle, example you wish to carrier 20% of pure oils in a roll on then put 80 % DPG and fill in your bottles. You can refer to this previous article to know how to manipulate fragrance oils and make it long lasting. You can use maceration rules also with DPG solvent. Long Lasting perfume, how to make it ?
3/ We use also DPG in alcoholic perfumes, because DPG is odorless, colorless, water-soluble and hygroscopic. See previous tables.