This service will be opened again in  2021 March due to COVID 19,  just in case contact us by simple email.

You have a shop, a distribution network, a website, you wish to sell under your name. We give an opportunity for you to release this option too. We propose a online service for you to create immediately your own brand. Very easy just select below :
See our selection of Ladies fragrance or our selection men fragrance that we propose.
All our selection are 50 ml, eau de parfum
We make for you,
1/ Maceration of fragrance oil in alcohol
2/ Fill in operation & assembling of the pump, collar and cap in Silver.
3/ We glue legal reglementation label under the glass, logos, etc ….
4/ We send by box of 60 perfumes with a minimum of 120 perfumes per scent type.
5/  When your order arrive to your shop/site, you glue in front your label and you are ready to sell immediatelly for nice profit.
6/ Your clients are satisfied with buying only the fragrance, not expansive design or expansive packaging as boxes. Your clients can buy only the bottle of perfume with your name and logo, then they remind your shop, when the bottle is empty to come again and buy.
7/ OPTIONS 1 that we propose :
You have also possibilities option to manufacture on your side, your own boxes, and put our perfumes inside a nice box with your name and logo. We provide the drawings under .ai file to give to your designer agency and then to your printer.
8/ OPTIONS 2 that we propose :
You wish to test the fragrances, then buy only one perfume, your investment is limited and without risk, test the quality.
9/ For the label maximum size please see the dimensions here.
More or less 35 (wide) x 45 (high)
10/ We provide to you on request the ingredient list to report to your box or labels in case.
See an example for a famous Korean brand, the results are amazing ! my signature eau de parfum
---
Technical informations :
Cap grade A, not heavy, material plastic + chromium (silver shining color), made in EU.
Glass grade A, good aspect, no molder lines, good shape and smooth skin (no fire finition), Rectangular, made in EU.
Sprayer : Plastic, metal spring sprayer + Chromium (silver shining color). Long spring system, made in EU.
Neck (collar) totally standard diameter 18,5 mm +- 0.15 mm, you can adpat an other cap if you wish, made in EU.
Weights : Cap = 20 grams ; Bottle with perfume and sprayer, collar + cap = 190 grams
Important dimensions :
Neck (collar) = diameter 18,5 mm +- 0.15 mm & high 14.5 mm +- 0.2 mm
Glass rectangular = 50 (wide) x 65 (high) x 30 mm ; Volume of perfume = 50 ml
Sprayer = See drawing below.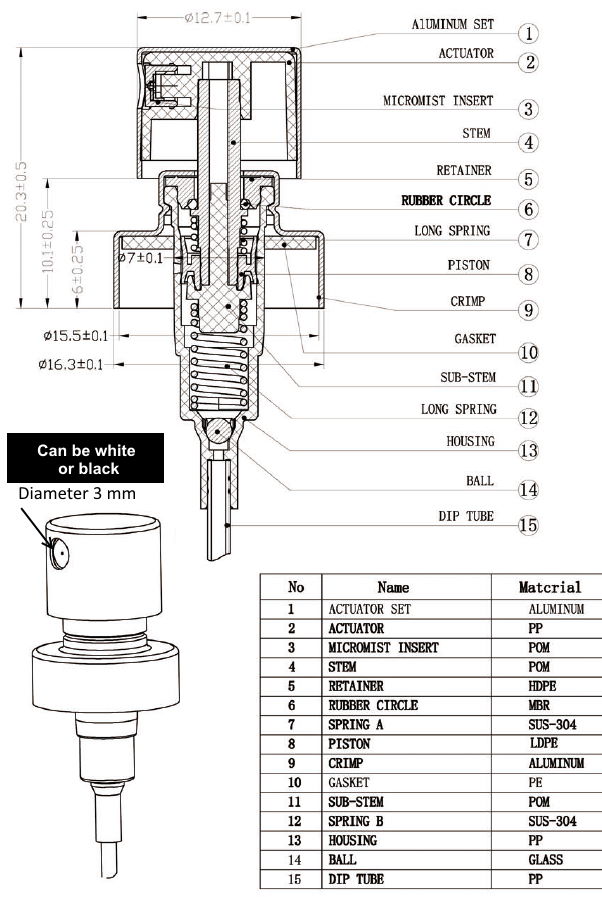 ---
Dimension of the product =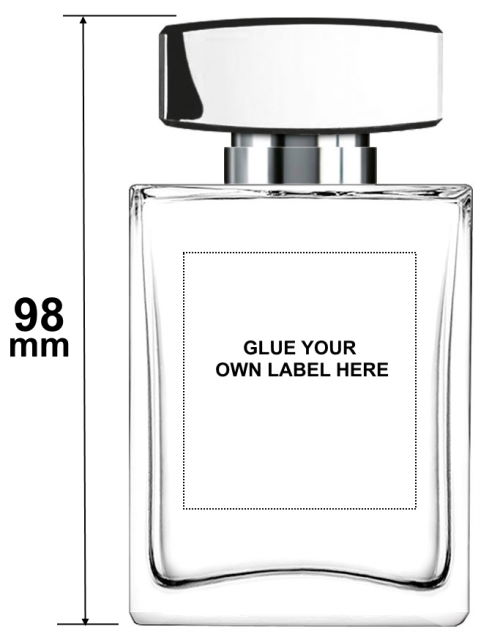 ---
SHOP OUR LONG LASTING FRAGRANCES & BOTTLES WITH YOUR OWN BRAND – shop now !
---